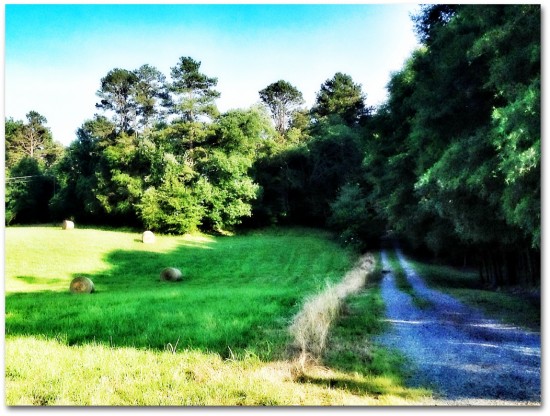 When James Gandolfini died, I read his words on why Tony Soprano appealed to viewers:
You got to see what he was trying to do, what he was trying to fix, and what he was trying to become.
Every one of us is trying to do those same things. That's your dream.
One day in Home Depot I heard Bruce Springsteen's 'Working On A Dream' for the first time. An appropriate place to hear a song about building something. I could relate and maybe you can too.
So your body doesn't climb a ladder and swing a hammer with the rain pourin' down? But your soul does, as you try to do, fix, and become.
Don't do what I did
Seventeen years ago I had a dream about a radio show. I dreamed and talked and planned. Never happened. It died a long, quiet, uneventful death. Why? I think because it was always in the future. It was all "if" and "when."
Today I feel guilty and foolish. I said I believed the dream, but I didn't do much but think and plan. Occasionally I got all jived and worked at it for a few days. I prayed too, but as they say, you have to put feet to your prayers. Mostly I waited.
My soul wasn't engaged in any ladder climbing or hammer swinging.
Yes, stretch for the future
Our family has a dream of a small property used for hope, encouragement, and perspective. A place where heaven, earth, and everyday living come together. It's vague and incomplete, but each of us sees some specific piece. We've all talked about this for several years.
Our daughter the Nester (oh wait I can call her by her real name now) and her husband are ready. They're looking for a home for their family and for their dream. The place will belong to them but also might be suitable for some of what we're all dreaming.
They found a piece of property with a house. They're in the middle of appraisal and inspection hurdles now. No one knows how it will turn out.
Don't just embrace your dream – let it embrace you
Once a week or so I drive to that property. The owners have moved, but I want to be respectful so I  sit in the car at the end of the gravel drive. I pray that in the future everyone who drives up that drive would find great encouragement at the other end and that they would take it with them when they leave.
One day I get bold and drive up the driveway onto the property. I plan to walk around the whole thing praying. I'm there about ten minutes when I turn around and see the owner's truck parked next to my car. He's just arrived and he's walking out the back door of the house into the yard.
This is awkward. I've met him, but I'm not the one purchasing his property and I haven't called or asked or knocked on the door. I'm just wandering around in his yard.
Be lighthearted and honest and apologize, right? Let's call him Chris.
"Hey Chris, I'm Gary. We met a couple weeks ago. My daughter and son-in-law are the ones who want to purchase your property. I guess I'm trespassing but I wanted to come up here to pray."
"Well that's always a good thing."
Honor your dream and treat is as a NOW thing
We make small talk. I ask how he's doing since I know family issues are involved in selling the property. He shares how tough it is. I mention that I'm sure he and his wife had hopes and dreams for this place. We talk about that a bit and somehow the conversation moves to his desire to write books. That starts it.
Over the next fifteen minutes I do all I can to encourage this guy not to ignore that desire inside him and that he can do it. I SO want him to not just let his dream fizzle out. At the end I ask him if I can pray for him. He takes off his ball cap. Part of what I pray is that the God who created heaven and earth would help Chris and take pleasure in what he creates.
The next day it hits me: I did a fifteen minute impromptu version of my Scary Hope message with the owner of the property my daughter and her husband want to buy. My part of our family dream is to do things like that on the land we've talked about. And I just did it. But the property isn't in our family!
For a moment, my part of the dream was already real. Even though the dream hasn't happened yet.
What would you do if your dream came true? Do that now
The Nester has a dream of a gathering place for swap meets, and to learn crafts, and to connect with women and be encouraged about the purpose of our homes. She doesn't have the place yet but she's already doing all that stuff at her house or at whatever space she can find.
Our other daughter (daughters rock!) Emily and her husband John have a dream of contributing to the spiritual conversation in their community. After a year or so of prayer and planning, John just quit his job to engage their dream, even though it has not come true yet.
The Declaration of Independence announced a dream that had been decided in the hearts of the founding fathers months and years before. They were already living like it was true, even though the British could still win and defeat the dream.
Faith sees the future in the present. Honoring your dreams now with your actions is part of faith.
What's your dream? How can you honor it now, by faith?