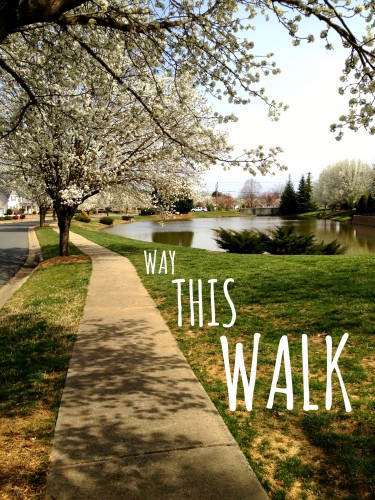 This is the sidewalk of gratitude, kindness, humility, forgiveness, and love. Smooth, a few turns, nice view, calm.
It is NOT to be the sidewalk of grumbling, blame, arguing, selfishness, and anger. All broken and cracked, turning your ankle; might as well walk in the grass.
You walk this way the same way you walk any other way
There are no buttons or secret passwords or six steps to get there.
You look down the sidewalk, turn the way you look, take a step, and start walking.
When I walk Delly down this sidewalk there are lots of stops, distractions, and poop. Normal stuff for a dog walk. But we keep going, together. Poop is part of it.
Lift your eyes from the poop.
Standing in any one spot, right now, before I walk much on this sidewalk, I look around and see that even though I'm not where I want to be, this spot here is not so bad. It might even be pleasant.
I appreciate this view right here in whatever way I can.
You can't live all in the future and miss this decent view.
And you can't live all in the past and present, believing this is all there is with no hope that things can be better as you walk.
You don't walk alone
As people are walking all the time, in the same spot, a path appears – John Locke
Your family is with you, since you can't help influencing them. Your walk may be slow if they don't understand or appreciate this sidewalk yet, but you can lead, just a step ahead. Who doesn't like grace and patience and encouragement? By perseverance, the snail reached the ark.
And the Lord is with you – if you're with him on this sidewalk that he made, and if you let him lead.
For your steadfast love is before my eyes, and I walk in your faithfulness – Psalm 26.3
What's the view from your sidewalk right now?