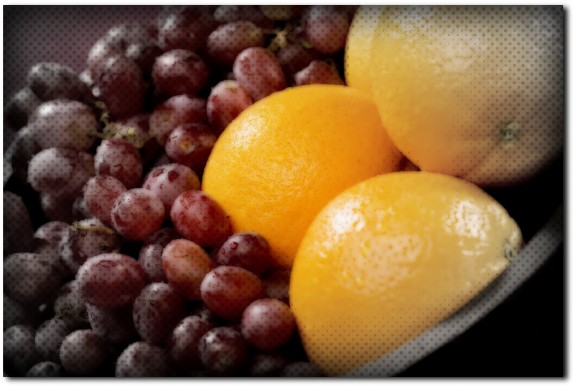 I am not an orange or a grape. I do not like to be squeezed.
But for most of us, peace and godliness are squeezed into and then out of us. We're on a journey of sporadic mountain-top enlightenment, dark discouraging valleys, and numberless plateaus of numbness. The valleys and plateaus squeeze us.
The squeezing is the part we hate and pray to escape. It's also the part that can lead to what we really want. This is the secret that peaceful, godly people want you to know.
Bad times are good ways to discover the sufficiency of God
When we moved to Texas fifteen years ago the passenger seat floor of our Camry was piled with tissues filled with my wife's tears. Leaving family and a new grandson and starting over again in a strange land with no friends brought Brenda to the end of herself. She had been on the way to the end of herself for a long time.
In Scary Hope I describe it this way:
"Lord, how long can she go on like this?"

For years I laid on my back in bed next to my wife, eyes open, praying through the ceiling, arms raised straight up in the air like a dead horse. She was asleep and never knew.

Brenda lived an agitated, anxious life. You didn't usually notice on the surface, but it was always there inside her like a distracting buzz.

Every day, we all have several issues we live with that are a potential source of anxiety: marriage, finances, children, work, friendships, expectations, health, self-esteem, desires, needs. These issues rotate, may be resolved, disappear for a while, and return. New issues enter the rotation and old ones dissipate. It's part of life.

For Brenda, her soul seemed to say, "I can't have peace until all that stuff is fixed." Which is impossible.

Friends misunderstand you? No peace.

Pain or headache that lasts longer than a day? No peace.

Husband within twenty feet of another woman? No peace.

At every moment of every day for twenty-five years, one or more of these words applied to her: jealous, insecure, argumentative, anxious. It was all under the surface, but busting out in ways that confused a mere husband. It was always mixed with a gentle personality. Gentle and agitated, that was her.

She was a sweetheart and I loved her madly. Her suffering killed me.

One day I came home from work and she was reading a book. She held it out to me, pointed to a page and said, "Is this true?" It was something about the finished work that Jesus Christ accomplished on the cross, not just for heaven, but for here right now.

"Oh, yeah, that's true."

That was the moment everything changed

A supernatural peace was born in her. It was a silent, unspectacular turning point. She became a woman of grace, instinctively trusting the sufficiency of Jesus Christ for everyday living.

She had been a Christian for twenty-five years, but still believed there was something left undone in her. Then God personally showed her, in a way I still don't understand, that all her un-dones were done on the cross with Jesus. And she believed it.
No circumstances changed. We lived in Texas for four more years. All the daily potential sources of anxiety remained. Yet peace and godliness reigned.
Confusion, waiting, regret, and hopelessness squeeze me. I want relief, I want solutions and answers, I want things fixed. I want satisfaction and release from the tension between how things are and how I think they should be.
But, I want these things more than God does. He could snap his finger and fix everything. He doesn't, so he must have other priorities.
One of those priorities is to develop my personal relationship and intimacy with him. Like he did with Brenda.
The privilege of unresolved problems
King David often woke up in the middle of the night obsessed with thoughts of God. I have never lost sleep because I couldn't stop thinking of God. Yet even David, the 'man after God's own heart,' did not do well in good times.
He was much closer to God, much more alive spiritually, when he ran for his life, needed rescued, and lived with unresolved problems. When times were good he disengaged from his kids, got lazy, had an affair and then covered it up by killing the husband. Prosperity was his enemy. But the bigger his problems, the more intimate he was with God.
Unresolved problems must be a big deal. It must be good for me and pleasing to God for me to really experience his sufficiency personally, and not just know it in my head. It must be a big deal because he's always creating or allowing opportunities for me to find satisfaction in him alone.
Usually, however–and knowing better–I still try to find my greatest satisfaction in solved problems. But the peace that comes from solved problems is not the same peace that comes from God.
The Lord is at hand; do not be anxious about anything, but in everything by prayer and supplication with thanksgiving let you requests be made known to God.

And the peace of God, which surpasses all understanding, will guard your hearts and your minds in Christ Jesus.

— Philippians 4.6-7
The scent of people who personally experience God's sufficiency
They are peaceful because they have abandoned control of how things turn out. They have given that control to someone they are convinced is trustable. They have experienced the sufficiency of the one they trust. They have accepted squeezing. That scent is the aroma of God.
Remember a time when you felt super close to God? What was happening in your life?
*  *  *  *  *
The Everything Fits affirmation. Each Monday we look at one part:
Everything about my life, everything that happens

– the circumstances I have experienced and find myself in

– my personality and DNA and wiring and gifting –

is engineered or permitted or governed by a sovereign, just, loving God who always has three good things in mind

1) to develop my personal relationship and intimacy with him

2) to accomplish his purposes in the world, and

3) to further his own awesome, unmeasurable aims that are bigger than my ability to understand.

Therefore, whether it's past, present, or future, I can have confidence and peace that somehow, someway, Everything Fits Even When It Doesn't, and I will trust and cooperate with God in the fitting.