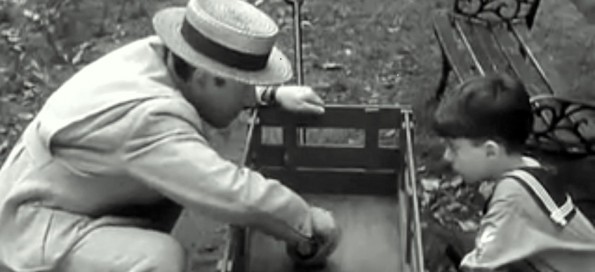 No pressure. Just lovely, interesting discussions.
That's how Richard Feynman described how he learned to connect the dots.
You don't learn it from school. Richard wasn't crazy about school. He said,
School invented a set of rules which if you followed them without thinking could produce the answer. A series of steps by which you could get the answer if you didn't understand what you were trying to do.
Richard went to very exclusive schools, but it was his dad who encouraged him to be curious and pay attention and connect the dots so that he had understanding.
Richard won the Nobel Prize in Physics in 1965. You may not want a Nobel Prize, but you can do the same thing Richard did–be curious and connect the dots–for your own purpose.
What does that look like?
In the opening scene from "Infinity," Richard's dad uses lovely, interesting discussions (which you can have in your head) to encourage the curiosity that leads to things making sense. (If you're reading this in email, click HERE to visit the blog to see the video – it's 3:50 and worth it)
This is Day 7 of 31 Days of Connecting the Dots: make more sense of your life, your world, your hopes and dreams. Subscribe on the right or below and each day will be delivered every morning to your inbox. Visit the Nester to choose from over 1,200 more 31 Dayers.