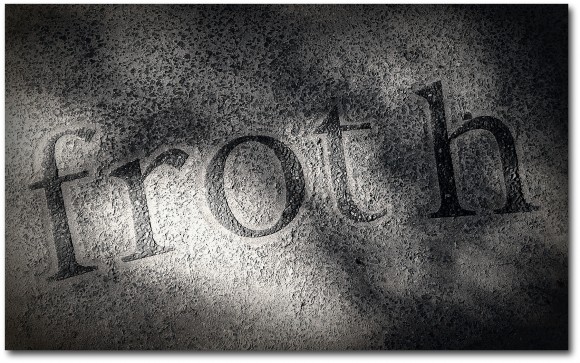 Go extreme and make ONE WORD your goal for this year.
No lists. No check-marks. No deadlines.
One word.
Right now I'll bet you're dealing with an issue, a problem, a desire, a goal, that can be captured in one word.
That word becomes your goal for your attitude or behavior. Your word reminds you and motivates you. Then the resulting attitude or behavior impacts a whole bunch of areas where you would normally have goals.Your word might apply in some narrow but important area of your life. Or it might apply broadly at work or home, with family and friends, and in your own heart and soul, too.
Your word should be personal. No one else will understand how much this word means to you right now.
When you have the right word, and you honor or follow it, things will change in your life. Good things will happen.
My word for 2013?
"Engage."
Why? I keep noticing that I have a default setting of detachment. I take the easy way out and disengage. This gets me in trouble in trying to accomplish things at home and work. I miss opportunities in conversations and relationships. Recently I have been reminding myself to stop that, to engage, to deal with things head-on when they present themselves.
I tell myself, "Don't assume someone else will do it, Gary. Do it or make sure it get's done. Engage."
One word can eat a bunch of goals
That financial conversation my wife and I are supposed to have at the beginning of each month? Don't wait for her to bring it up and then use her as an excuse for why we didn't do it.
Tighten those cabinet door handles in the bathroom. Don't look at them day after day thinking, "oh yeah I need to do that."
Don't flirt with writing and projects. Engage.
Do one thing at a time. . .  Give people my undivided attention. . . Don't put off responding to calls and email. . . Go to bed when I'm tired and realize I'm not getting anything done.
No matter what my goals are, if I would just engage issues, problems, people, and responsibilities when they present themselves, my life would be far better. People in my life would be better off.
I could make a list of all these separate things and make them goals. Or I could pick one word to follow.
What's your word?
Tomorrow: Part II – Some help finding your One Word
And if you feel a dream hiding inside you but you don't know what it is, 2013 could be the year you get clarity and go after it. I have a free ebook for you, Fuzzy Hope: Courage and a kick to track down the dream you feel but can't see. To get it, sign up for free updates using the form on the upper right.