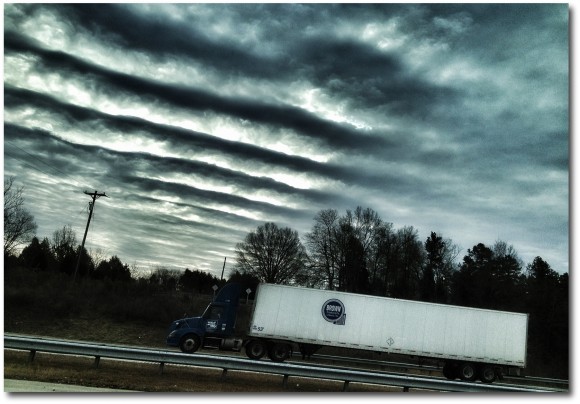 It is me.
Here's what it's saying –
All the straight crisp lines in this picture were made by man.

All the crooked blurry lines were made by God.

So why do you expect that a good day is a day under control, on time, predictable, with only a few unimposing pleasant surprises?

That's not God's way, that's your way.
On the few times God makes straight lines we take pictures of them while driving down the highway. And the lines aren't even that straight. It gets our attention because God's straight lines happen so seldom.
Why should this weekend–heck, this whole year–be any different?
I want straight and predictable and then I complain because I get trucks, guard rails, and telephone poles.
I hope your weekend–and mine–is filled with something wavy, blurry, and once-in-a-lifetime.
~~~
(Is there a dream hiding inside you? Get the FREE ebook Fuzzy Hope: Courage and a kick to track down the dream you feel but can't see – just subscribe below or on the form in the upper right to get the book and free blog updates)