Then abandon hope in this:

In the middle of confusion, waiting, regret, and hopelessness, you want an arrow.
A straight, pointy, solid arrow. An arrow that connects your troubles to wonderful "it's all worth it!" results.
An arrow would help you endure. When you sacrifice and save cash for a down payment on a house, you know exactly what it's for. Savings on the left, house on the right, straight arrow in between.
You don't get an arrow.
Oh, things are definitely connected. But it's more like the dotted line between Billy's start and finish.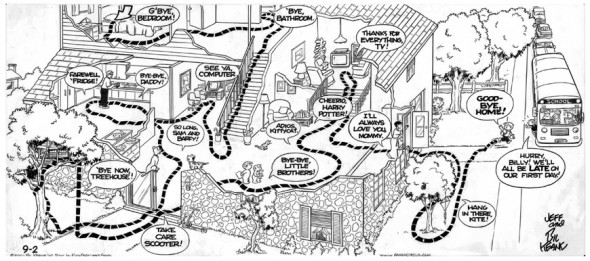 Billy knows where he's going. He just likes to take the long way to get there.
When you're in the middle of trying to make sense of your family, or your circumstances, or your junkie stuff, you DON'T know where you're going. You say you believe that God knows, and has a purpose, but without the arrow pointing right at the purpose, you're not sure what it is. You feel lost somewhere on the endless dotted line.
You're not alone. This is normal. The long way home is how you get on the shaped-by-God team.
Expect the long dark night
The day Oswald Chambers told God he wanted a more intimate relationship with Jesus was the beginning of the worst years of his life.
From that day on for four years, nothing but the overruling grace of God and the kindness of friends kept me out of an asylum.

God used me during those years for the conversion of souls, but I had no conscious communion with Him. The Bible was the dullest, most uninteresting book in existence, and the sense of depravity, the vileness and bad-motiveness of my nature was terrific.

— from Oswald Chambers: Abandoned to God
You sincerely ask God for intimacy and you get misery! Where's the blessing and reward? Why ask for more of God if you know you'll end up half-crazy?
You have to go way down before you go way up. Apparently there is no shortcut.
When Oswald Chambers came out of those 4 years of the dark night of his soul, he became the Oswald Chambers the world needed. Friends called him, "the greatest demonstration we had ever seen of the Sermon on the Mount fleshed out."
During his life he spoke to dozens and hundreds. Today, because of the man he allowed himself to become, God's purposes in the lives of millions have been advanced. Every morning his words still speak to me.
I see the arrow from Chambers' struggle to God's purpose as straight and pointy. To Chambers at the time, it was the dotted line tracing a kid's meandering to the school bus.
Expect confrontation with your own insufficiency
Bill's wife was sick wife for a long time. One day he came home surprised to see her working in the garden. "You'd better stop and go rest, you know what's going to happen." He knew she had very little energy. She said she felt fine.
She was fine. Her illness had left her. And something else happened. A peace beyond understanding had been born in her.
Bill was awed by the supernatural change in his wife. He grew to want the same thing. He began praying that God would change his life, too (uh-oh). He knew that the struggle and hopelessness of her illness was key. By faith he made preparations at work and financially for a long incapacitation.
Instead, his wife asked him for a divorce.
This began his own dark night of the soul, where he was forced to confront what kind of man he must be to cause his godly wife to want to divorce him. Like his wife, and like Oswald Chambers, he was squeezed into confusion, waiting, regret, and hopelessness. Like them, he came out the other side into humility, grace, and peace.
Bill ended up with a Bible study attended by hundreds – at work. And, he mentored Harold. Harold mentored me. Through Harold my whole family has been shaped.
In heaven the arrow is straight. On earth you get the crazy dotted line.
Expect to go down so others can go up
Jesus came to earth on a mission of selflessness. His father had plans to rescue people and creation. Jesus was the plan. We know what Jesus went through to accomplish those purposes; suffering, rejection, death. But then it gets scary when he says things like
Just as you sent me into the world, I am sending them into the world. And I give myself as a holy sacrifice for them, so they can be made holy by your truth

– John 17.18-19
Yikes. He's talking to his father about me (and you). I'm on the same mission of selflessness. No, I can't go through what he did, but I'm still put here for God's purposes, not mine.
That takes shaping. The shaping is not fun. If I could just see a straight arrow connecting the pain of shaping with the purpose for it, the shaping might be more bearable.
My arrow can't be straight because all the stuff needed to make me usable for God's purposes is crooked, confusing, and painful. It can feel like death.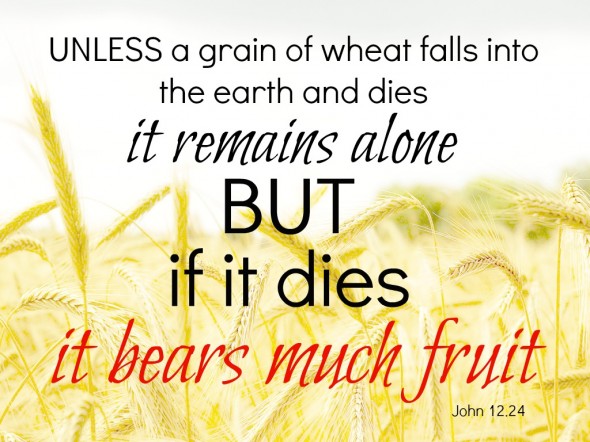 For the joy set before him, Jesus endured the cross. He knew that at the end of the dotted line everything fit.
I'm willing for someone to take the long, mysterious, dotted-line journey to accomplish God's purposes for me. But, am I willing to do the same for God's purposes for others?
Who (besides Jesus) has paid the price to be on the shaped-by-God team for you?
—-
The Everything Fits affirmation:
Everything about my life, everything that happens

– the circumstances I have experienced and find myself in

– my personality and DNA and wiring and gifting –

is engineered or permitted or governed by a sovereign, just, loving God who always has three good things in mind

1) to develop my personal relationship and intimacy with him

2) to accomplish his purposes in the world, and

3) to further his own awesome, unmeasurable aims that are bigger than my ability to understand.

Therefore, whether it's past, present, or future, I can have confidence and peace that somehow, someway, Everything Fits Even When It Doesn't, and I will trust and cooperate with God in the fitting.