What's this about?
Inspiration to help you appreciate, influence, and love the family you have (no matter what)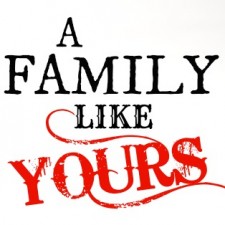 You probably hold some secret hopes and dreams for your family. You want your family to be all it can be.
Maybe you also want it to just feel better to you.
Maybe you want a closer, more loving family. Or less dysfunction and drama. Maybe you want reconciliation and healing. Maybe you just want an end to tacos every Wednesday night.
This series might help with some of that. You might end up with Turkey Manhattan every Wednesday. Or it might even change your family's destiny and legacy. Who knows.
Your family is unique (even though you might call some of it 'bad'). Your family has strengths and a purpose and a future. I hope your appreciation of all of these will grow and grow over the next few weeks.
You can subscribe right now (above on the right) to get an email each day in October with a few encouraging words and a link to that days post.
When you subscribe, you'll also get a FREE guide to help you start the kind of yearly vision day our family has enjoyed for over ten years.
The Nester and Emily and their husbands and us have always called it our "Goals Day," but really it's also about helping each other and your family have a vision for your purpose. I hope it helps you.
If you think of someone who might benefit from any of this, please share – you can use the buttons below.
What three words describe how you feel about your family? 
*   *   *   *   *
All the posts in order (this one is #1):
#2 – If you're bummed that your family has a long way to go, you're not alone
#3 – Grace wins
#4 – Patience wins
#5 – Best and second best time to start
#6 -
#7 -
#8 -
#9 -
#10 -
#11 -
#12 -
#13 -
#14 -
#15 -
#16 -
#17 -
#18 -
#19 -
#20 -
#21 -
#21 -
#22 -
#23 -
#24 -
#25 -
#26 -
#27 -
#28 -
#29 -
#30 -
#31 -
Related posts: